Growing up, my parents did not allow me or my brother to have any furry pets. While I always wanted a dog, I eventually grew used to living without one and never had an urge to get one after moving out. It wasn't until I met David, that I rekindled my love for dogs. After living together for a year with our Chinese water dragon, Babadook, we spent time at local shelters in LA looking to add a new furry friend to our family. One day, while David was looking at cats (I'm allergic), I walked around the dog pound and spotted the cutest smutty pug in a corner! From the moment I saw him, I knew he had to be mine. It literally felt like love at first sight – I even gave him a name then and there – S'mores. When I got home, I made him an Instagram account @smoresthepug and posted the few photos I got of him that day. Ambitious, I know.
S'mores was taken in as a stray dog with no microchip, so nobody knew his history – why he was relinquished, how he got lost, or even his true age (shelter & vet guestimated 4). I was curious to know how he survived out on his own for who knows how long. So many questions, but no answers. When we saw him, the shelter told us that he wouldn't be ready for adoption until 12/31/16 because they were giving his potential owners 7 days to claim him. That week, I remember being in high anxiety mode because I wanted this sweet dog so badly! We were told that a lot of people expressed interest in the pug, so the adoption would be done in a "silent bid" manner. Interested pawrents would put in the highest amount they were willing to pay for him. I adored him so much already, that I begged David to take me to the shelter to see him every day until the adoption. And that he did.
December 31 comes along and it was a rainy day. I normally HATE the rain, but on this day, I was happy about it because it deterred a lot of people from showing up for the bid (lol!). I placed a pretty high bid to secure him and the rest was history! Soon I learned that by rescuing my very first dog, S'mores, he actually rescued me. I'll get to this in a little bit. Despite being a "stray," he was a pretty perfect first dog. We imagined he definitely had a family and was well-trained. He did pee on my feet upon greeting me for the first time after the official adoption, but I like to think that he did that out of excitement because he never really did that again afterwards 😉
In the new year, I want to share more personal posts like this and open up to you guys about things that make my world. So, let's get back to the topic of rescue. Today marks 2 years since we adopted S'mores into our family. I say that by rescuing S'mores, he actually rescued me for several reasons. In such a short amount of time, he has taught me so many life lessons that I never would begin to think a dog could teach a human! Not only has he helped me discover myself, but he has also enriched my relationship with David, and given me a glimpse of what having my own family is like.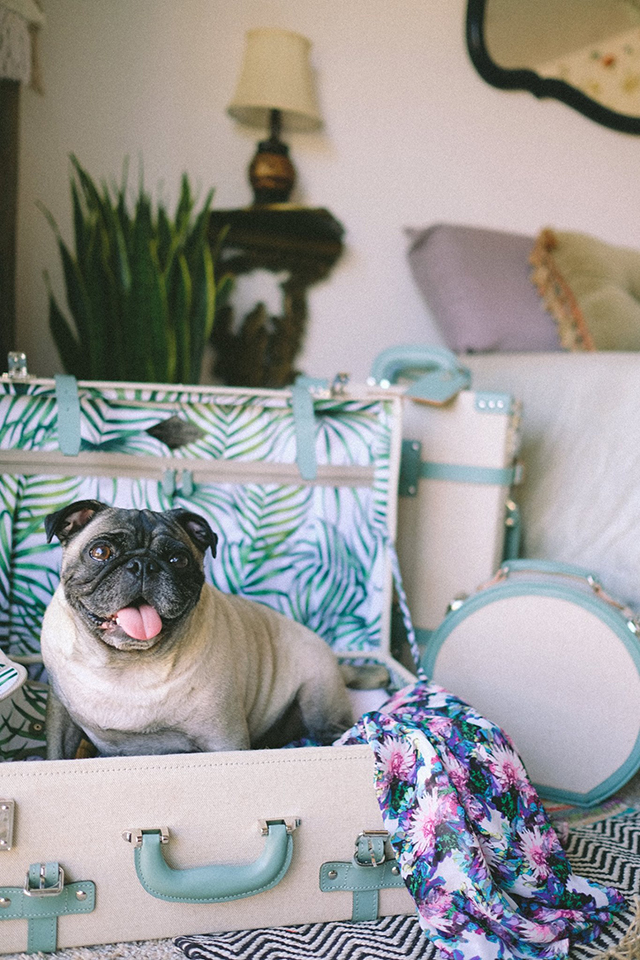 Some of the things I'm really grateful for S'mores is:
Constant Companionship
Don't get me wrong – David gives me plenty of companionships, but it's different coming from a dog you love! S'mores is literally my shadow and loves to sit on my lap while I write my blog posts, or right next to me while I do sit-ups on the floor. He enjoys snuggling in bed and keeps me feeling comfortable during my time of the month (best heating pad ever – ha!). I never feel alone when I'm with S'mores. After getting him was also when I learned that it's okay to cut out toxic people in my life. Everything and everyone I needed was right in front of me, and will continue to be that way if things are meant to be. There simply is no point to chase someone or something that isn't worth my time. I've started to shift my energy to self-love, and things/people that make me a better person.
Unconditional Love & Forgiveness
For the most part, S'mores has been a pretty good pug. But, that doesn't mean that he hasn't caused mischief. Sometimes, it's not even really his fault. For example, he unknowingly popped a bloody pimple on my favorite white comforter. Annoying, but at the same time couldn't blame an innocent dog for popping the pimple where he did. I also remember one time he accidentally ran into my brand new lamp and it shattered all over the floor. I was deliriously pissed off at the moment because I hadn't even had the lamp for a few days. But, at the end of the day I found myself forgiving him and still loving him. Holding onto negative feelings doesn't fix a bad situation. And, dogs never hold grudges… so people shouldn't either!
Increased Activity
Pugs aren't made for a whole lot of activity compared to other dogs. In fact, due to their lack of snouts, they often have breathing issues 🙁 However, S'mores definitely has the energy in him when the time is right! He loves outdoor walks when it's not too hot, seeing new places, and meeting other dogs. Being S'mores' pawrents, David and I walk him twice a day around our neighborhood. I can't lie – I probably would not be so dedicated on these walks if not for S'mores. While I do work out at the gym and get my daily workouts in, our bodies also need fresh air. My daily walks with S'mores give me just that!
Enhanced Social Connections
What's a social life? But seriously though. I am probably one of the biggest introverts you'll ever meet. I hate being in the spotlight and typically avoid social situations because I 1) don't drink, smoke, do drugs, or anything along those lines, and 2) consider myself to be a pretty boring person. My idea of having a good time is snuggling with my loves at home, eating a balanced home-cooked meal, online shopping, writing, working out, and being in bed by 9. Just things I do every day, really! I don't have to go out to have a blast. But, I have to say that bringing S'mores around town he just gets so much love and attention. In turn, I get to meet some cool people! Dog parks are a great place to socialize with other pawrents and dogs, but we've also taken S'mores on road trips. On our last one to Vegas, we spontaneously met a couple from England who are avid pug lovers and have 2 themselves! It was awesome. I love that S'mores improves my social life in the way that he gets me out and talking to others even if for just a brief moment.
Responsibility
Like I mentioned earlier, adopting S'mores has given me a better sense of family and responsibility. The mom kind of responsibility… if that's a thing. Of course, it's not fair to compare raising a dog to raising a kid, but he's literally become my baby so it's close enough for now! Firstly, I've become more mindful of my own health. I need to be healthy to be able to take good care of S'mores! Secondly, his health is my responsibility. So, I make sure to feed him well-portioned nutritious foods, keep him groomed, get his walks in, and ensure that he is up to date on his vet visits and vaccinations. These little things may seem simple, but when you add them to your everyday routine… well, I feel like a MOM! Hahaha. Just glad I don't have to worry about him possibly hanging out with the wrong crowd or knocking up a girl 😉
A year after adopting S'mores, we welcomed another pug into our family. Rolly was a 9-week-old black puppy, S'mores' new little brother to play with when David & I aren't home! It was the best decision ever, and we love both of them equally. They make the cutest duo and it's interesting to see that while they are the same breed, they have very distinct personalities, likes & dislikes, and unique bodies! Just like babies 😉
S'mores, mommy & daddy thank you from the bottom of our hearts for everything you've given us the past two years. Life is not always about material things. It's the companionship, memories, and lessons we learn along the way! Cheers to many more years of loving you! XOXO