Happy Fall, you guys! Palm Springs hasn't quite gotten the autumn memo yet… I'm looking forward to temperatures dropping down below 100 degrees, and reducing AC usage at home. As we progress into the cooler months, I know that more people will be coming here to enjoy our beautiful weather! With that said, I'm continuing the Palm Springs series with another post on 15 of my favorite spots in & around my hood. There is just so much to see. I feel like no matter how long I live here, there will always be new gems to be discovered. If you're planning a trip to the Coachella Valley, I highly recommend checking some of these Insta-worthy spots out!
Cabazon Dinosaurs
50770 Seminole Drive
Cabazon, CA 92230
Driving from LA? You'll conveniently pass the Cabazon Dinosaurs on your way into Palm Springs. It's located right next to the Cabazon Outlets – a roadside stop that's quite hard to miss. When it's not overly crowded and lighting conditions are right, these dinos present a unique photo opportunity for tourists and locals alike!
Whitewater Preserve
9160 Whitewater Canyon Road
Whitewater, CA 92282
The Whitewater Preserve is a stunning hiking trail with water flowing through certain spots like a river. The water is refreshingly cooling on hot days! We have taken our pugs out on walks here early in the morning and the younger one just loves to play in the water. As you enter the road to get up to the hiking spot, you'll also see a heavy stream of really clear blue water where people like to pull over, admire the view, and take pictures. Some even go down to the river and hang out – although it's strongly frowned upon by authorities because it's not exactly the safest place to be.
Pro tip – whatever you do, do not leave anything out in plain sight. Our car got broken into earlier this year and we were only out for maybe 15 minutes tops! The parking situation is much safer once you get up to the Preserve, but I'd still keep valuables out of sight to be safe.
Palm Springs Windmills
26950 20th Avenue
Palm Springs, CA 92262
The iconic windmills were what drew me into Palm Springs years ago when I first visited. If you come during sunrise or sunset, you'll likely be rewarded with a breathtaking view! David and I have done countless photoshoots out in the desert with the windmills in the background. Depending on time of year and day, it can be quite windy in these areas (thus why the windmills exist in the first place). So, wear a comfy jacket and maybe bring a hair-tie if you hate having hair blow around everywhere like I do. Once you see these windmills, you know you're entering Palm Springs!
#ThatPinkDoor
1100 East Sierra Way
Palm Springs, CA 92264
You may have already seen it all over Instagram – #ThatPinkDoor is an iconic spot worth driving by once you're in Palm Springs. Earlier this year, the owners of this home, unfortunately, had to put up signs prohibiting photography because people were being disrespectful of their property. The good news is, this neighborhood in general has really modern colorful doors that are Insta-worthy as well. Just drive around and see for yourself! If you must take a photo in front of this famous pink door, I'm sure nobody would yell at you if you did so quietly or from a distance on street 😉
Ice Cream & Shop(pe)
1551 North Palm Canyon Drive
Palm Springs, CA 92262
Whether you like ice cream or not, you must make a stop into Ice Cream & Shop(pe) in Downtown Palm Springs, part of ARRIVE Hotel! This is seriously the CUTEST ice cream shop ever – you won't regret stepping in. My ice cream lovers will enjoy a variety of flavors to choose from. The quality and texture of their ice cream is simply unparalleled. My ultimate favorite is the pomegranate chip and it always crushes my soul when I walk in and find that they don't have this flavor for the day. They switch out ice cream flavors at random. Not so into ice cream? Hang out in & peruse through their little souvenir shop in the corner. They've decorated it so "Palm Springs" – oh so colorful and pretty!
Moorten Botanical Garden & Cactarium
170 South Palm Canyon Drive
Palm Springs, CA 92264
Plant lovers, anyone? Stop by the Moorten Botanical Garden & Cactarium in Palm Springs to walk through a fun maze of succulents and cacti. I'd recommend coming earlier in the day to avoid the heat if you are here in the summer. Trust me, it's really not as enjoyable when it's too hot out. It's only $5 per adult to go in, so it's really friendly to every vacation budget. My favorite spot in this garden is the greenhouse – a great place to do a "follow-me-to" shot if you're into that! They also have a section where they sell plants, and you don't have to pay to enter this area of the garden.
Rancho Super Car Wash
71490 Highway 111
Rancho Mirage, CA 92270
As you go down Highway 111 towards Coachella, you'll come across a cute pink elephant car wash called the Rancho Super Car Wash in Rancho Mirage. I know it's really no big deal, but I just love the vintage vibes and character of this spot. If you want a picture in front of it, you'll have to come early in the day before the car wash opens to get an undisturbed look. Street traffic is typically friendlier, too. At night, the sign lights up and looks awesome!
The Living Desert
47900 Portola Avenue
Palm Desert, CA 92260
Meet the zoo of the Coachella Valley! Located in the heart of Palm Desert, The Living Desert is a zoo worth checking out. Compared to other zoos, this one is on the smaller side, but very unique in its own way. David and I love that they have a good mix of plant and animal life here. We got an annual pass earlier this year and have gone several times already. Parking has always been a breeze and is free. There are a multitude of cute spots to take photos. Our favorite is the giraffe exhibit because it is so photogenic – depending on how you photograph it, it could look like you're on an African safari!
Old Town La Quinta
78100 Main Street
La Quinta, CA 92253

A couple cities over from Palm Desert is La Quinta. The downtown area is called Old Town La Quinta, and it's a beautiful place to take an early morning or evening stroll. The Spanish tiles here add a perfect splash of color in photos. If you ever get hungry or thirsty while exploring the area, there's plenty of food and drink options to take delight in. I'm not a coffee person, but I've heard great things about Old Town Coffee Company. There are also small boutiques and shops that are fun to check out if you've never been! Every Sunday from October 7 – April 27, Old Town hosts a certified farmer's market from the hours of 8 am – 12:30 pm.
Indio Rose Garden
81800 Avenue 51
Indio, CA 92201
If you are a sucker for flowers like I am, you'll fancy the Rose Garden in Indio. It's in the Empire Polo Club, right next to where the Coachella music festival takes place! Entry is free and parking is easy. The flowers are typically in full bloom during Spring and die off in the summer when it gets scorching hot. I'd recommend visiting this spot if you're in town from late March to late May.
Joshua Tree
74485 National Park Drive
Twentynine Palms, CA 92277
You might already be familiar – just outside of Palm Springs is Joshua Tree. Avid hikers, campers, and adventure lovers often look forward to visiting Joshua Tree National Park when they are in the valley. Just be aware that temperatures here can vary greatly from those of the low desert regions like Palm Springs. It can get drastically cold and windy at night depending on the time of year you visit… so, plan accordingly! Similar to the windmills, the views of Joshua Tree can look unreal during sunrise and sunset because you have that open horizon which makes for a beautiful photo backdrop.
Salton Sea
100-225 State Park Road
Mecca, CA 92254
The history of the Salton Sea is quite interesting. If you have never been to this once-paradise, now-apocalyptic town and are in the Palm Springs area for at least 3-4 days, I highly suggest coming out to see it! The first time I visited with David, we thought we finally found a beach in the desert. In fact, the "sand" looked so white and perfect! Once we got out of the car and were greeted by a disgusting stench, we quickly learned that the sand is actually not sand at all – just millions of dead fish bones broken up. It hurts to walk on, so I never went again in flip-flops. If you are keen to drive around the area, you'll find a lot of abandoned elements that used to make the Salton Sea a paradise (i.e. hotels, boats, drive-ins, etc).
Salvation Mountain
603 Beal Road
Calipatria, CA 92233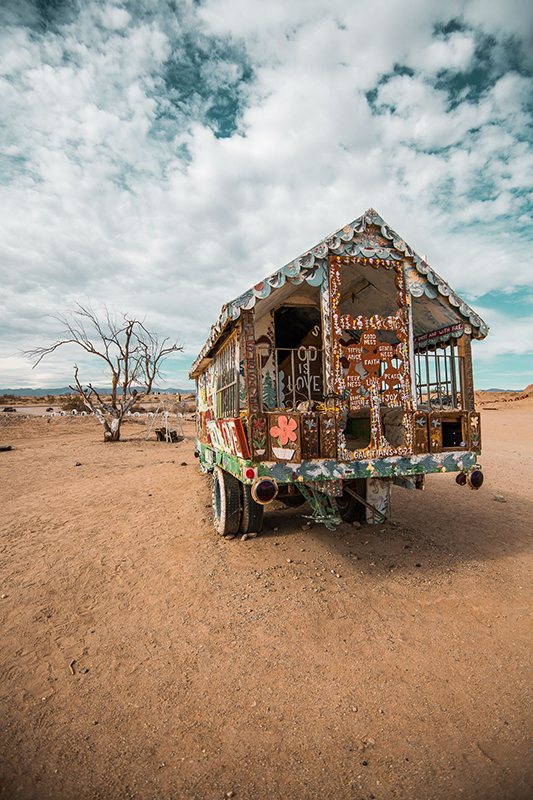 Managed to make your way out to the Salton Sea? Turn your adventure into a day trip & visit the monumental Salvation Mountain. It is just several miles away! This visionary art piece was created by a local resident, Leonard Knight, to deliver his message that "God Is Love." He was very devoted to this project but passed away in 2014. Salvation Mountain is 28 years in the making, covered in half a million gallons of latex paint. Volunteers now work diligently to maintain and protect Knight's hard work. So long as you follow the yellow brick road, photography is welcome here. The beautiful colors and unique sculptures make it a sight to remember!
East Jesus
23 Sidewinder Road
Niland, CA 92257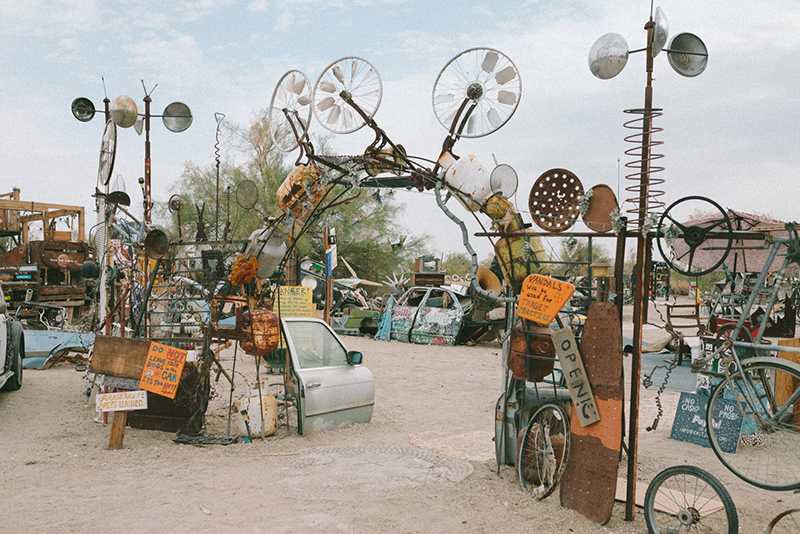 After Salvation Mountain, check out East Jesus in Niland, just at the end of Slab City. This is another attraction that will surely wow you! The artwork is dusty, dirty, and trippy. Imagine trash and junk transformed into incredible sculptures – it's definitely not everyday art you'd stumble upon. If you go at a time when it's not busy, and on a cloudy day, it feels extra eerie. Yes, I'm speaking from experience – it was an unforgettable one.
Algodones Dunes
Ted Kipf Road
Glamis, CA 92227
The Algodones Dunes is located in Imperial County about 2 hours from Palm Springs. It's a bit of a drive, but is so worth it if you have some extra time in the valley! Most people do not realize that there are actual sand dunes in California. I was pleasantly surprised when I came out here for the first time. The few times I've visited, it was never too busy and we were able to squeeze in a few fun fashion shoots. It is pretty deserted and can get very hot though, so be sure to pack plenty of water and stay hydrated! The best time to visit the dunes is anytime but summer because it just gets way too hot to fully enjoy it then.
---
In case you missed it, I also shared my favorite Palm Springs hotels last month, in case any of you are looking for a place to stay during your visit (or just more places to check out)!
Have you seen any of these iconic sights around Palm Springs?