How to Start a Blog in 3 Easy Steps
I'm often asked how to start a blog, what web host I recommend, and if setting up WordPress, a theme, and plugins is difficult. It took a little bit of time to learn WordPress and get comfortable using it, but it has definitely been worth it! If I was able to figuring everything out then you'll surely be able to as well.
I thought it would be best to help my readers, fans, and visitors the web host I recommend and what steps to take to get started on your blogging journey.
The title of this page is how to start a fashion blog, but keep in mind that the steps below will work for anyone looking to get a website, online store, or blog online. When I first started it was confusing and difficult since I had never done anything like this before. Fortunately, there are a TON of guides, resources, tutorials, and walk-through videos online because WordPress has such a large global community.
So let's get started! This "how to" guide will walk you through three simple steps on how to start a blog with a web host provider named PeoplesHost. I've partnered exclusively with PeoplesHost because they are a web host with affordable pricing, quality hosting services, and specialize in WordPress hosting. Following these simple steps will help get you started with a domain name, hosting, and site at PeoplesHost within a matter of minutes.
Follow these three easy steps to get yourself a free domain name and blog set up at PeoplesHost
1. Choose a Hosting Plan
For beginners the hosting plans I highly recommend are the Basic or Choice plans. These two are the most popular plans amongst beginning bloggers. The main difference is the amount of bandwidth and space (storage) you get with each plan. The Choice plan is only $5 more per month and you'll have plenty of room to grow with 4 times the space and 3 times the bandwidth. This is good if you have lots of photos like me or expect to have a lot of traffic to your site.
Once you've decided which plan you want to order click the "Order Now" button on PeoplesHost site. This will take you to the first step of their checkout process.
Don't forget to copy this coupon! This coupon will give you a special 20% discount on a 1 or 2 year billing cycle if you apply the coupon STYLELULLABY during the last step of the checkout process.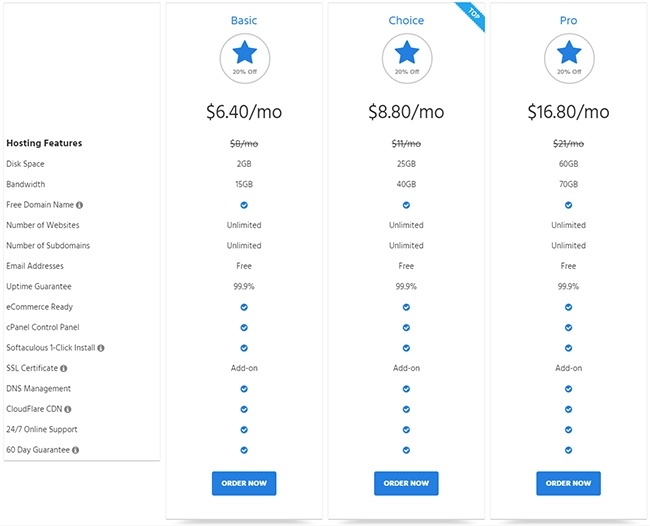 2. Choose Your Domain Name
Here's the fun part! Choosing your domain name. Your domain name is the URL someone will type into their browser to access your blog. For example, mine is stylelullaby.com. The first step of the checkout process is where you'll choose your free domain name.
You have three options to choose from:
Register a new domain (FREE)
Transfer your domain
I will use my existing domain and update my nameservers
As a new blogger you'll most likely be choosing option #1. By choosing option #1 PeoplesHost will cover the cost of your domain name for the first year (it's completely free the first year)! If you have an existing domain name registered somewhere else and wish to use that domain with your PeoplesHost account you'll want to choose either option 2 or 3.
3. Choose Billing Cycle
After choosing your domain name you'll want to choose the billing cycle for your account. Remember, if you choose a 1 or 2 year billing cycle and use the coupon STYLELULLABY you'll receive a 20% discount on your total in the last step of the checkout process!
On the next step you'll have the option to
register your domain privately
. I highly recommend privately registering your domain since this will hide your personal information from the public (keeps the spammers away!).

Once you complete the checkout process and successfully submit your order, PeoplesHost will set up your account. You don't have to have any technical skills either since PeoplesHost will setup WordPress at no additional cost for you! Shortly after placing your order you should receive an email with your hosting account details and WordPress login details. Be sure to save this email and the contents within. You'll need this information if you ever want to get into your server's control panel or log into your account at PeoplesHost to submit a ticket, view your payments, or add-on more products to your account.
I hope you enjoyed this step by step "how to" guide. PeoplesHost goes above and beyond in helping their customers get started on the right track. They're especially great in helping beginning bloggers and anyone using WordPress!