***I received compensation from Dr. Scholl's® to write this post! All opinions are entirely my own.***
#advertisement With New York Fashion Week coming up, it is more imperative than ever to ensure that your feet get the proper support they need. Let's be real – heels are a popular shoe choice for this occasion. Unfortunately, though, they can cause excruciating pain after a couple of hours of wear. Are you deterred by the idea of wearing high heels because of the discomfort you get from wearing them? Thanks to Dr. Scholl's Stylish Step™, every fashionista can have happy feet. Say goodbye to ouchies, and bounce from one fashion show to the next with your favorite shoes! Target carries a full line of Dr. Scholl's Stylish Step™ items, which provide all-day comfort in whatever solemate you choose to wear for the day.
Since I wear heels often, I recently picked up Dr. Scholl's Stylish Step™ Ball of Foot Cushions for High Heels. These insoles have made such a difference for me, relieving and preventing pain at the balls of my feet. They are truly must-haves if you are attending NYFW this year and plan to be out and about in heels! They provide that extra cushion so I can walk around longer without sore feet. If you're traveling from out of state, you can be assured that these insoles are super lightweight and easy to pack into your suitcase. Ever since discovering these guys, I have been wearing them in every pair of heels I own – and here's why.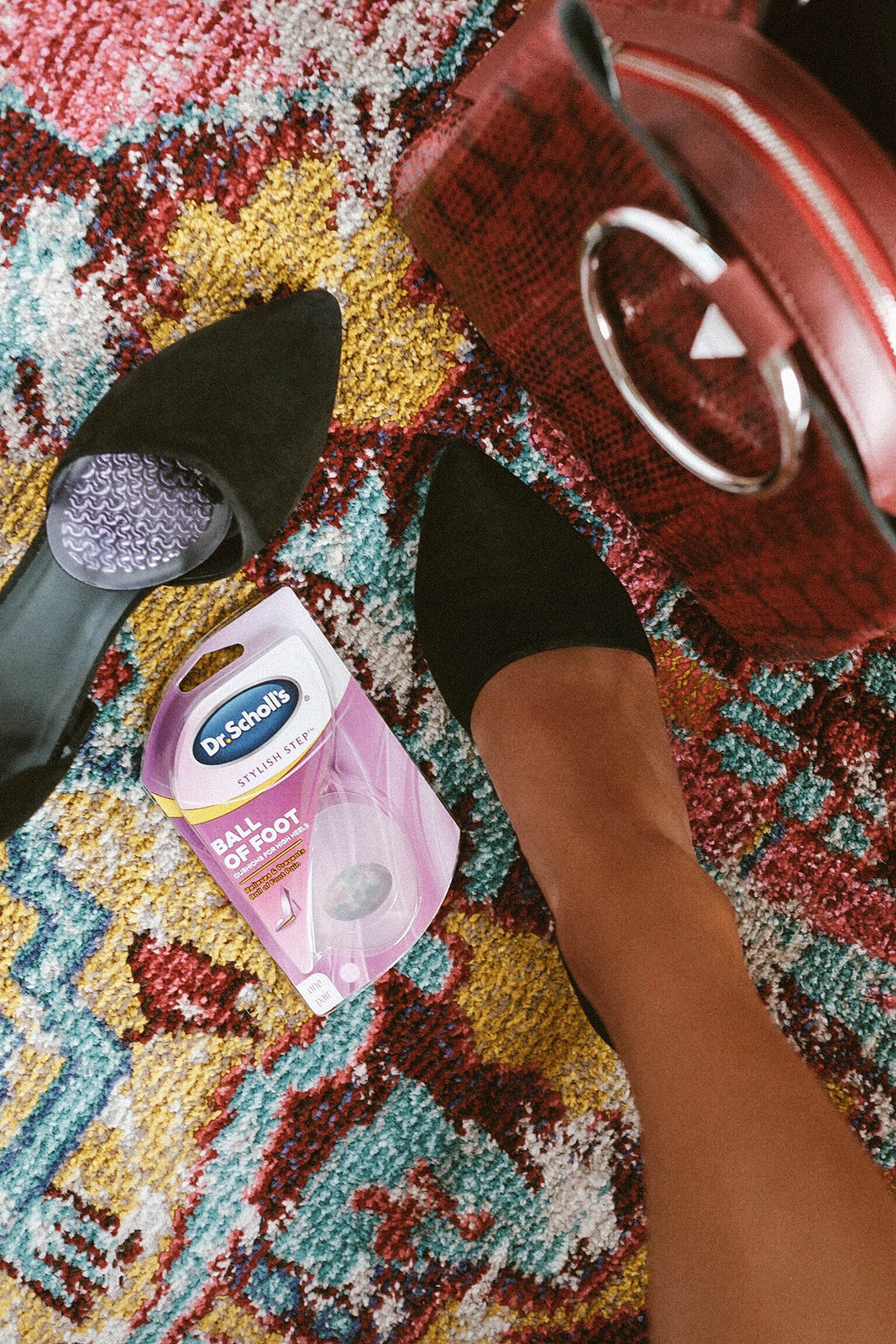 Dr. Scholl's Stylish Step™ Ball of Foot Cushions for High Heels are engineered to provide cushioning and absorb shock from walking, which makes getting around in heels much easier. I don't know about you, but sometimes my feet will slide forward if the width of a shoe is a bit too wide, or if the heel is very high. This results in my toes getting uncomfortably scrunched in the frontal area, which then gives me very tender and unsightly bruises by the end of the day. Luckily, I can always count on these insoles to prevent this issue altogether. The best part is, that they are super discreet. You don't ever have to worry about them being visible when the shoes are on! Application is a breeze, and the cushions stay in place with an adhesive that can be easily removed without damage to the shoes.
Strut in style while looking your best during New York Fashion Week with Dr. Scholl's! Right now, you can even save some money on Stylish Step™ at Target with this Cartwheel offer. Starting on 9/9, you can also head here to take advantage of their BOGO off offer. What are you waiting for? Head on over to the foot care aisle near the pharmacy and stock up on your Stylish Step™ essentials 🙂 #DrScholls